John Bamford - Genealogy Pages.
Samuel Blackwell and Melton Mowbray
Janet and John Bamford,
Post Office Box 11, HALL ACT 2618, AUSTRALIA
Phone +(61 2) 6227 5532 Fax +(61 2) 6227 5995

---
---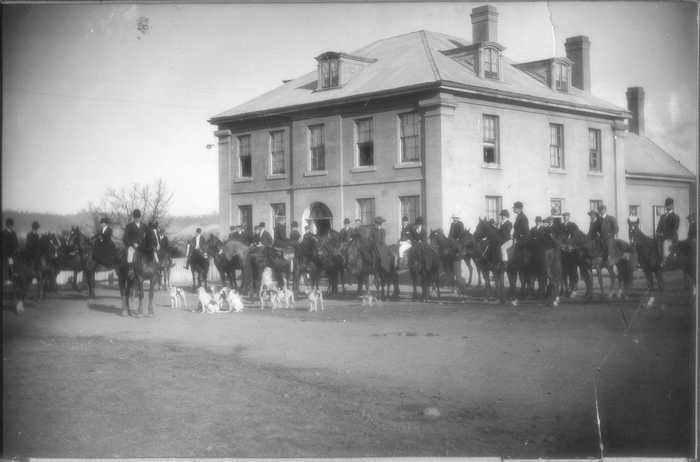 Melton Mowbray Hotel, Tasmania, Australia, in the time of Samuel Blackwell.
---
Introduction.
Samuel Blackwell was born in Melton Mowbray, England, around 1814. He died in the town of Melton Mowbray, Tasmania, Australia on 12 July 1885.
The story of Samuel Blackwell is also the story of Melton Mowbray in Tasmania. Samuel Blackwell came to Australia in 1840, and in 1858 built the hotel that he named after his birthplace. Melton Mowbray remains as a small town, not far from the city of Hobart.
There are many stories about Samuel Blackwell. He brought to Australia the racehorse Panic, of Melbourne Cup fame. He started a Hunt Club at Melton Mowbray in Australia.
Samuel Blackwell is perhaps best described in material written closer to his own times, in particular a newspaper article of around 1960, and his obituary notice of 1885. Copies of the text of these follow below.
Samuel Blackwell is the great great grandfather of Janet Bamford. Despite what is known of him, there are also mysteries. We know very little of his beginnings in England, and nothing of his parents or ancestors. While these things are a mystery to us, we hope they are not mysteries to others. So, if you know more about Samuel Blackwell, please let us know!
We need to express our thanks to others, who have given us both information and the enthusiasm to find out more. We therefore wish to thank Mr Tony Webster in Tasmania, and Melton Net at Melton Mowbray in England.
For more information from Melton Net, see Melton Mowbray, England.

---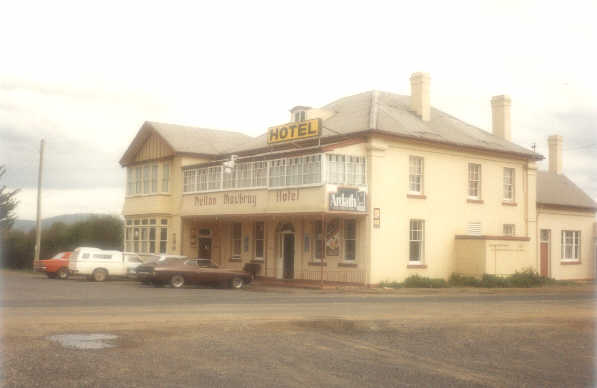 Melton Mowbray Hotel, Tasmania, Australia, in 1985
---
Portrait of a Pioneer.
The following is an extract from the Hobart "Mercury" newspaper, probably printed in the late 1950s-early 1960s for which my grandmother Ethel Harris (Nee Blackwell) provided most of the information if not all. Granny died shortly after the interview aged 91 years.
Janet Bamford, Yass, New South Wales, Australia. February 1999
---
P ORTRAIT OF A PIONEER
By Vera Fisher
This is the story of Samuel Blackwell and his favourite horse Panic. Described as the most famous sire imported into Australia during the last century, Panic was foaled in 1858, by Alarm from Queen of Beauty.
The man who brought this horse to the Colony was the late Samuel Blackwell. Mr. Blackwell was born in the tiny English village of Melton Mowbray in 1814, but moved later to Fosbry in Wiltshire.
There he met the late Mr. John Bisdee Sen. Both belonged to the exclusive Tedworth Hunt Club, which had some 80 members who rode to the hounds every day in the week.
Mr Bisdee had migrated to Van Dieman's Land in 1821, and, after taking up a holding of land at Hutton Park and running it successfully for some years, was having a holiday in England. He persuaded Mr. Blackwell to come with him on his return to this State, and they arrived in 1840.
Mr. Blackwell became licensee of the Cape of Good Hope Inn at Apsley. In 1842 he took over the Royal Oaks Hotel at Green Ponds (now Kempton). This building is now Oakmore, a private residence. Horses owned by him were already doing well at races on the old Green Ponds track.
On September 18, 1850 Mr. Blackwell was granted a stage coach licence for a two-wheel vehicle to run between Green Ponds and Bothwell for 12 months. A year later he bought land at Cross Marsh (now Melton), and in 1858 he built a large two-storey inn which he named Melton Mowbray after his birthplace.
It was in the building of the stables, spacious enough to be used as a motor garage, post office and private dwelling in later years, that Mr. Blackwell evinced most interest.
In 1853 he entered horses in the Town Plate run at New Town. A few years later he decided to import a racehorse from England, and commissioned a Mr. Brown of Hobart Town, to select a suitable one during a visit to the Old Country.
Mr. Brown bought Panic while the horse's owner was absent from home, and there was consternation when he found his favourite racer had been sold. However, he agreed to let the purchase stand, and received 1,000 guineas in payment.
Mr. Blackwell and his trainer, Mr. Peter Dallan, travelled to Hobart Town to take delivery of the animal from the sailing ship Harriet McGregor, under the captaincy of Richard Copping. However, the horse had been very ill on the voyage out, and was little more than a bag of bones with swollen legs. Brown agreed to keep the horse on his property free of charge for six months. After three months the brown colt was in perfect condition.
Panic gained many successes in races, the most notable being when he won the "Championship" of 1865, and ran second in the Melbourne Cup. Then he was turned out to stud, and one of his first stock was Strop who won the Launceston Cup four times.
Another of Panic's foals was Nimblefoot, owned for a time by Mr. Blackwell, who sold him a few months before Nimblefoot won the Melbourne Cup. As recently as 1920 prospective owners were asking for horses with the Panic strain, for the old horse was renowned for his stamina and staying ability.
In 1860 Mr. Bisdee gave Mr. Blackwell a pack of Beagle hounds, and he hunted them as the Southern Hunt Club hounds. He had a deer park on his property, and a racecourse built at the rear of the hotel.
It was not unusual for travellers on the coaches from Hobart to Launceston to break their journey for two days at Melton to converse with Mr. Blackwell and admire his trophies and the handsome pictures which adorned the walls.
Many members of the Government stopped at Melton Mowbray, and when Governor Weld was appointed in 1875 he made a habit of spending all his annual holidays at Melton and travelling up there for all the races.
On one occasion His Excellency sent his children and their governess to the hotel for six weeks' holiday especially for Mr. Blackwell to teach the children to ride.
During the first Royal Tour of Australia in 1878, the Duke of Edinburgh was the guest of Mr. Blackwell.
---
Samuel Blackwell - Circa 1814 to 12 July 1884.
Following is a copy of the original obituary of Samuel Blackwell printed on silk. Samuel Blackwell was my great great grandfather.
Janet Bamford, Yass, New South Wales, Australia. February 1999
---
T HE LATE Mr.S. BLACKWELL, SEN.
(By Tam 0'SHANTER, in the "Tasmanian Mail" of July 18, 1885.)
Sportsmen throughout Australasia - and even in the old country - will experience a sincere feeling of regret upon receipt of intelligence of the death of Mr. Samuel Blackwell, Sen., which sad event occurred at the deceased's late residence, Melton Mowbray, on Sunday, 12th July 1885. In racing circles few men were more popular, and certainly no straighter-going colours were ever borne to victory or defeat on the colonial turf than the "pink jacket and black cap" of the old squire. Long ere he settled in the Antipodes - some 40 years back - Mr. Blackwell took a lively interest in turf matters, and his name being associated in the sport with the names of Messrs. Dry, Gee, Hardwicke, Yeend, Rose, and others, he might be classed among one of the oldest sportsmen in Southern Tasmania. As far back as 1853 he opposed Messrs. Yeend and Rose in the Town Plate run at New Town, but previous to this horses owned by him were competing on the old Green Ponds course. After engaging in business in one or two townships in the Colony, Mr. Blackwell sought his fortune in Victoria, ultimately settling down at Melton Mowbray, an English like village situate about 30 miles from Hobart. Indeed, the very name of Melton Mowbray has a true sporting ring about it, reviving memories of those who may have followed the hounds in the essentially hunting county of Leicestershire, and if the deceased gentleman did not originally give the place its name, some early colonist, with sporting proclivities, implanted a lasting recollection of the thriving little township situate in the county where the renowned Lyme harriers have followed the game for years past. In the ancient coaching days, where time permitted, few would continue the journey to Launceston without stopping a day or two to partake of Host Blackwell's hospitality, and the typical English gentleman was just as ready to converse about the sport he so dearly loved as his guests were gratified in having the opportunity of granting him an audience. As landlord of Melton Mowbray Hotel, Mr. Blackwell gained countless friends outside the racing world. Adjacent to the hotel was the racecourse which the worthy host always placed at the disposal of the promoters of the annual race gathering held here; and out of respect to their genuine friend, the meetings of 1883 and 1884 were brought off as complimentary to and in honour of Mr. S. Blackwell, sen. Deceased in his younger days was a clever horseman, a good shot, and his knowledge of a horse increased as decades went by. For many years the deceased was master of the Southern Hounds, and he may be said to have literally breathed his last in the saddle, as an attack of paralysis, which seized him on the 20th ult., during a run with the hounds, caused a prostration which eventuated in his death.
Mr. Blackwell's name was principally rendered famous from the fact of his having originally owned the thoroughbred sire Panic, acknowledged on all hands to be the most useful sire that ever left England for the colonies. "Useful" would not be all that the defunct son of Alarm was entitled to, but for the reason that it was years before the horse was given a chance. One of the first of Panic's stock was the popular equine, Strop, a quadruple Launceston Cup winner; later on Nimblefoot, a Melbourne Cup Hero, who was Mr. B's property for a few months prior to his big Victorian coup; and in the present day is Commotion, who may be said to be the most consistent performer that ever trod the turf in the Southern Hemisphere. As a steeplechase sire, Panic had no equal. Panic himself was successful as a racer, his Champion of '65, and his second in the Melbourne Cup, to wit. About that year the Panic Produce Stakes was run, Mr. Blackwell contributing the bulk of the prize. Shillelagh and Modesty were other good performers owned by the departed squire; also Touchstone, whose portrait has hung in the snuggery of the Melton Hotel for so long past. The ever welcome "pink and black" was frequently carried to victory over cross-country, and among this latter class owned by the deceased gentleman may be mentioned Black Prince, Beaufort, Blackthorn, etc., and among platers the names of Spaniard, Sweetlips, Tit-bit, John Peel, and Donnybrook. It was owing to the defeat of this latter horse at Clarence Plains that the memorable Panic v. Minstrel match was arranged, which ended in such confusion, owing to the followers of Minstrel declaring forfeit. Of late years Mr. Blackwell owned Edward, the steeplechaser, and the day the old grey beat Echo at the complimentary meeting on the Melton course was such another to the old gent as when Panic won the Champion. Nicholas was a good average cross-country horse, and won some capital races for his owner and breeder. From Princetta, a mare by Gotherstone, from Young Princess, by The Swede, Mr. Blackwell became possessed of Nicholas, Moss Rose, and Nora, each by Horatio, and a filly by The Assyrian. The mare and foal were sold a few months back, which left their late owner, for about the only time without a racer. Deceased leaves a widow, and also two sons, Samuel and William. As a genuine sportsman, the same may be said of honest Sam Blackwell as has been uttered in memory of other turfites of his manly character who have passed from us -
Where'er the flag encircled course
Or long bold sweep of billowy down
Inspired the deeds of man and horse,
Such were the fields of his renown.
Deceased was laid in his last resting-place on the 16th July, 1885, in the plot of ground at the rear of the little chapel which was built principally through the exertions of his surviving widow. Upwards of 200 persons, representing Hobart, Oatlands, Bothwell, Green Ponds, etc., attended the funeral.
---
---
Home Page
Copyright © John Bamford 1998-2008