John Bamford - Genealogy Pages.
Diary of Philip Bamford (1864 - 1932)
Genealogy Home Page Bamford Family
King William IV Hotel Diary of Philip Bamford (1864 - 1932)
---
England to Australia in 1890. A Voyage on the Steamship Ruapehu.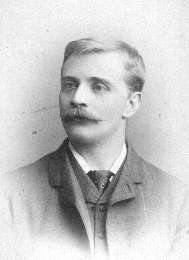 Philip Bamford, my Grandfather, was born in England near Littleborough in Lancashire in 1864. On 16 October 1890 he sailed with his brother Walter from London on the New Zealand Shipping Company ship, the S.S. Ruapehu, to travel to Australia.
The route taken by the S.S. Ruapehu was from London to Plymouth, to Tenerife, to Capetown, and then to Hobart in Tasmania, Australia. At Hobart on 27 November 1890, Philip Bamford and his brother Walter left the S.S. Ruapehu, which continued on to New Zealand.
Philip and Walter then traveled across Tasmania by train to Launceston. In Launceston, they took another boat to Melbourne in Victoria, Australia. Box Hill, a suburb of Melbourne, was to be Philip Bamford's future home.
During his voyage on the S.S. Ruapehu and until his arrival in Box Hill, Philip Bamford kept a diary describing daily events and his impressions of his travels. This diary was passed in due course to my father, Clyde Bamford, who passed it to me.
The diary is a record about daily life on the ship, the passengers and crew, amusements and entertainment, and the places visited en-route. The diary of shipboard life records many things - including occasional danger, punishment, humour and boredom. It also reflects attitudes of the 1890's, in which may be seen both similarities and differences from life today.
The latter parts of the diary also describe early Hobart, the train travel across Tasmania, and the first impressions upon reaching Melbourne by boat.
So that the content of the diary could be better preserved, in 1999 I typed my Grandfather's words into a computer so that a printed version could be made. While this might seem a simple task, it was not quite so - as the Introduction to the printed version explains.
The printed version of the diary includes a picture of the S.S. Ruapehu with the permission of the Alexander Turnbull Library, National Library of New Zealand, Te Puna Matauranga o Aotearoa. The Library also has the Passenger List for this voyage of the S.S. Ruapehu, and other information concerning the ship. Any queries concerning such material should be addressed to the Alexander Turnbull Library in New Zealand.
To obtain a copy of the Diary

While the diary was initially prepared for family members, it is also of interest to other people. Copies can be purchased either as a printed version, or as a pdf file from which you can print a copy for yourself.
You can download a free preview of all of the diary in Adobe Acrobat pdf format. If you do this, the file is strictly for your personal use only. By clicking the following link with your right mouse button, you should be able to save the file for later viewing.
Preview of Complete Diary ediary2.pdf - 308 KB
Please contact us for payment details if you wish to buy a printed copy of the diary, or the pdf file version to print a copy for yourself. The printed version of the diary contains 30 A4 pages (210 X 297 mm), is wire bound, with a see-through front cover. It is easily sent within Australia by post and overseas by airmail.
(The free Adobe Acrobat Reader can be downloaded from here.)
---
Home Page http://www.bamford.com.au

Bamfords, Post Office Box 11, HALL ACT 2618, AUSTRALIA
Phone +(61 2) 6227 5532 Fax +(61 2) 6227 5995
Copyright ©John Bamford 2004 - 2008